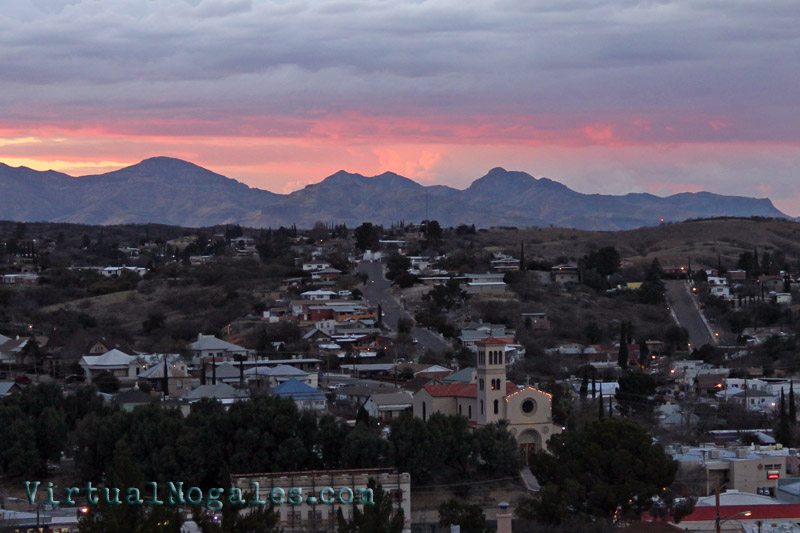 For a brief moment in early January the skies over Nogales lit up in an ethereal light show
Por un breve momento al principio de enero los cielos de Nogales se iluminaron en un espectáculo de luz etérea
Thank you for visiting the Virtual Nogales website. This site is intended to provide information about the twin cities of Nogales, Arizona and Nogales, Sonora, Mexico, which are separated by the international border between the United States and Mexico.
In addition to the information, we will also post photos of all aspects of Ambos Nogales (meaning "both Nogales") so that you can become familiar with this very special place.
We sincerely believe that images speak louder than words, so Virtual Nogales wants to be a major source of photographic images of the twin border cities of Nogales, Arizona (listed here as "Nogaz") and Nogales, Sonora ("Nogson"). This will include not only photographs from American photographers, but also from some excellent photographers who live and tell their visual stories south of the border in Nogales, Sonora.
Thanks again for visiting – We sincerely hope that you enjoy this site!
Opinions about this 18-foot-high barrier of rusting metal range from those who do not think it exist to those (like Donald Trump) who think it should be buttressed to become even more of a barrier. Like it or not, this wall is a defining image...